It's actually incredibly easy to measure sound intensity. You can do it with your phone using free apps. I'll quickly walk through the method I use and a few other options that are out there.
If you are needing to take more official measurements then a phone won't be enough and you'll need to purchase a decibel meter.
So let's look at the best ways to measure loudness of sound.
How To Measure Sound Intensity With Android
I like to measure sound intensity for a few different purposes. First, I have a lot of sound gear and when I get something new I like to test the limits of the speakers.
I like to see first of all how loud it can get, and second of all I want to know how loud it can get without compromising the sound quality.
Related Article: How to Measure Wavelength With Your Phone
The other thing I like to measure is soundproofing. There are screaming kids in my house along with the music I like to play while I work (and the casual karaoke parties we throw sometimes before bedtime). With all this noise I've experimented with some different soundproofing methods, and I measure the sound intensity to see how effective those methods are.
Sound Meter app
I use the Sound Meter app for measuring sound intensity. It's a super simple interface and the decibel readings keep up with real time incredibly well.
It also shows the minimum, maximum and average sound intensities it measured while it was recording.
I don't expect much from an app that measures sound intensity, but I can vouch for the quality of the readings. They may not be exactly right all the time, but they are consistent from one environment to the next.
You can be reasonably certain that a 40 dB reading in one environment is equal to a 40 dB reading in a different environment. It works great for what I need.
If you want lab quality readings then you shouldn't be using your phone to measure sound intensity.
Note: If you want to get a better idea of where the sound is coming from (lows, highs, etc.) then you can pair this app with my method for measure sound frequency in Hertz. Basically, I just use another phone app called Spectroid.
How To Measure Sound Intensity With iPhone
I don't have an iPhone so I can't verify the quality of any of those apps. However, after a quick look through the Apple app store, it seems one of the better options is call Decibel X.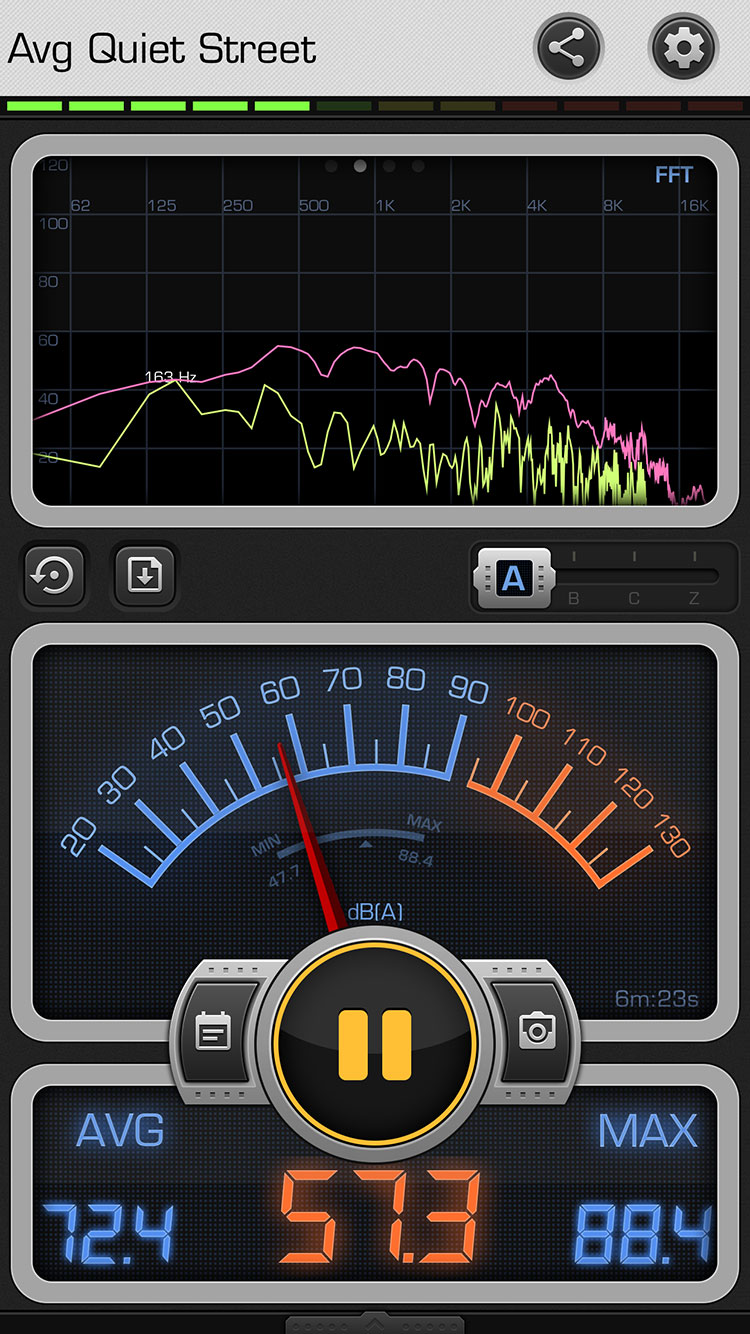 This app actually has the frequency graph built in along side the decibel meter.
Apparently the app is intended not only to measure sound waves, but also to help protect your ears from harmful noise.
It works on iPhone, iPad and also integrates with Apple watches.
Again, I can't personally speak for the quality of this app, but from what I've read it will certainly get the job done.
How To Measure Sound Intensity With A Decibel Meter (
If you want more calibrated, accurate sound intensity measurements, you'll have to invest in a decibel meter (also called sound level meter).
These instruments measure the intensity of sound pressure waves and the best decibel meters use condenser microphones.
You can get some pretty cheap that are going to significantly outperform your phone. And if you need something with better accuracy you will have to pay a bit more.
Usually, to actually get a measurement with a sound level meter, you will either just turn on the instrument, or turn it on and press a recording button.
A Good Cheap Decibel Meter – BFAX Decibel Meter
Super affordable meter
Reads to nearest 0.1 dB with accuracy of +- 1.5 dB
Comes with a 1 year warranty
If you need an official sound intensity reading, then a phone isn't going to cut it. This decibel meter cuts out all the bells and whistles you would find on a more expensive product and leaves with just three readings: maximum, minimum and current intensity.
This means that the product doesn't actually have an average reading over time (which the phone apps do have).
You need only turn on the BFAX decibel meter to begin getting measurements.
It's incredibly affordable, gives significantly more accurate readings than the phone apps, and fits the needs of most people. However, it is missing some features that may be necessary for you.
A Couple Meters With More Features
Protmex Sound Level Meter
Still reasonably affordable
Takes more measurements (including average intensity)
Can save data until meter is turned off
Accuracy within 1.5 dB
---
REED Instruments R8060 Sound Level Meter
Accuracy within 1.4 dB
Can purchase meter with a Calibration Certificate which guarantees the instrument's accuracy
Comes with tripod mount for long term monitoring
Conclusion
For most of us, a smartphone is more than sufficient to measure sound intensity. If you have more strict requirements around your intensity measurements (for example something that can be used as evidence), then you will want to use a decibel meter of some kind.
All methods we've looked at are easy enough for anyone to do it, as long as you have the right instrument.